I have been busy with custom orders, good thing! :) There are a couple of things I want to share with you today. First of all, thank you so much for your great comments. I have been receiving emails and comments every day! It makes me very happy!
Also, I won a blog makeover from
Shabby Pumpkin
! Its all great news today. I entered a giveaway she was having for Shabby Pumpkin's Grand Opening and I won! So girls, come back soon and check out the new So Lovely Creations blog!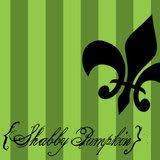 Please check out Mandy @ Shabby Pumpkin! She also creates digital cards and photography! Her designs are awesome!
She designed Mandi's blog @
Miss (es) Canadian Pie
I love Mandi's blog! You cant go wrong with pink and brown!
Quick and easy project I want to share with you today. I've been trying to use some of the things I have at home to create beautiful pieces. A while back, I found these unfinished wooden candle holders at Michaels for .50 each. The round wooden plaque I bought it at Walmart for $1.12. It was originally going to be a bow holder, but never used it.
This is a really easy project and it turns out really cute! I used my glue gun ( i love you glue gun!) to glue the wooden plaque on top of the candle holder. I then spray painted the piece white. Let it dry and ta-da! You are done! Now, wasn't this easy? It doesn't get easier than this girls. I made this to hold a bigger candle I had, but I played around using different objects.
I think I might use this to bring life to my fruit bowl! This looks like one expensive decoration, but its not! I bought the bowl at the Dollar Store and it looks like a glass bowl but its plastic. I know, incredible! This total project was only $2.50. What a deal! Just lovely!


I tried it as a candle holder. But at last, I decided I liked it best with the fruit bowl holder. I dare you to try this project! So easy, inexpensive and cute! Have a great day!